Mark Vincent
---
11/22/2015

IconicTattooCo.
[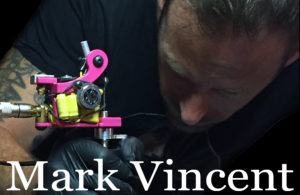 Mark "Mark Vincent" Grassano's Portfolio
Please ask for Mark  Vincent if you think his work will be a good fit for you.
---
How would you best describe your style? Versatile with my strong points in Portraits, Realism and Pinups. From Black and Grey to Color I love doing both. Possibly, I enjoy working in B&G a little more but love final product in color.
Do you have any awards or publications? I have 32 awards for my Portraits and Black & Grey work form various tattoo conventions up and down the East Coast.
What inspires you as an artist? Intellectual ideas brought to light by design and imagery. I have always been both Inventor and Artist and the most inspiring moments are when the two join together to create something great. Super hard to explain but this has to be one of the most inspirational moments, strokes of genius.
What year did you start tattooing? 2007
Do you practice other media? I used to work a lot with color pencil and pencil portraits. Tattooing has kept me so incredibly busy along with my business of Inventing and my family, that the only media I work in nowadays is skin and Ink. I have however been getting into digital art lately as my Tattoo art/design is done half the time in pencil and paper and the other
half done on photoshop.
What led you to work in mostly Realism and Pinups? These things just came naturally to me. When I was growing up I was a rad cartoonist. In grade school I would paint murals of comic book caricatures on my bedroom walls and what not. But in High School
I would pass the time in Detention drawing Portraits of my Favorite musicians. Then Pinups came about as I would draw girls of the top of my head while not paying attention in class.
Interesting thing is, my Tattoo Career went the same way. I started out Tattooing Traditional, cartoons, comics, then on to what I am known for now Portraits, Realism, and Pinups.
What has been one of the strangest pieces you have tattooed? A few crazy requests have come my way but the one that stuck out the most was a Customer wanted the cheshire cats smile (from Alice and wonderland), just the smile and a part of the nose on the base of his neck and to allow it to wrap around each side a bit. The tattoo to my surprise was a huge hit with my other clients and people love looking at it in my portfolio. But to this day I think that was one crazy Badass tattoo.
What was you reason for getting into the tattoo industry? At that time in my life in 2007 I had already tried just about everything, from professional scuba diving in Barbados to painting houses in Main. It was time for me to make the "right" decision for myself. So my guidelines for my new career choice would be, a career that would be using my talents, would generate money, with room for growth, and lastly I would be passionate about. While getting tattooed in Florida, it came to me….. Become a Tattooer….. Haven't looked back since.
---